News Patiala: The Patiala area is being evacuated due to a potential threat of flooding. The Indian Meteorological Department has issued a red alert for the area, and there is a risk of heavy rainfall and flash flooding.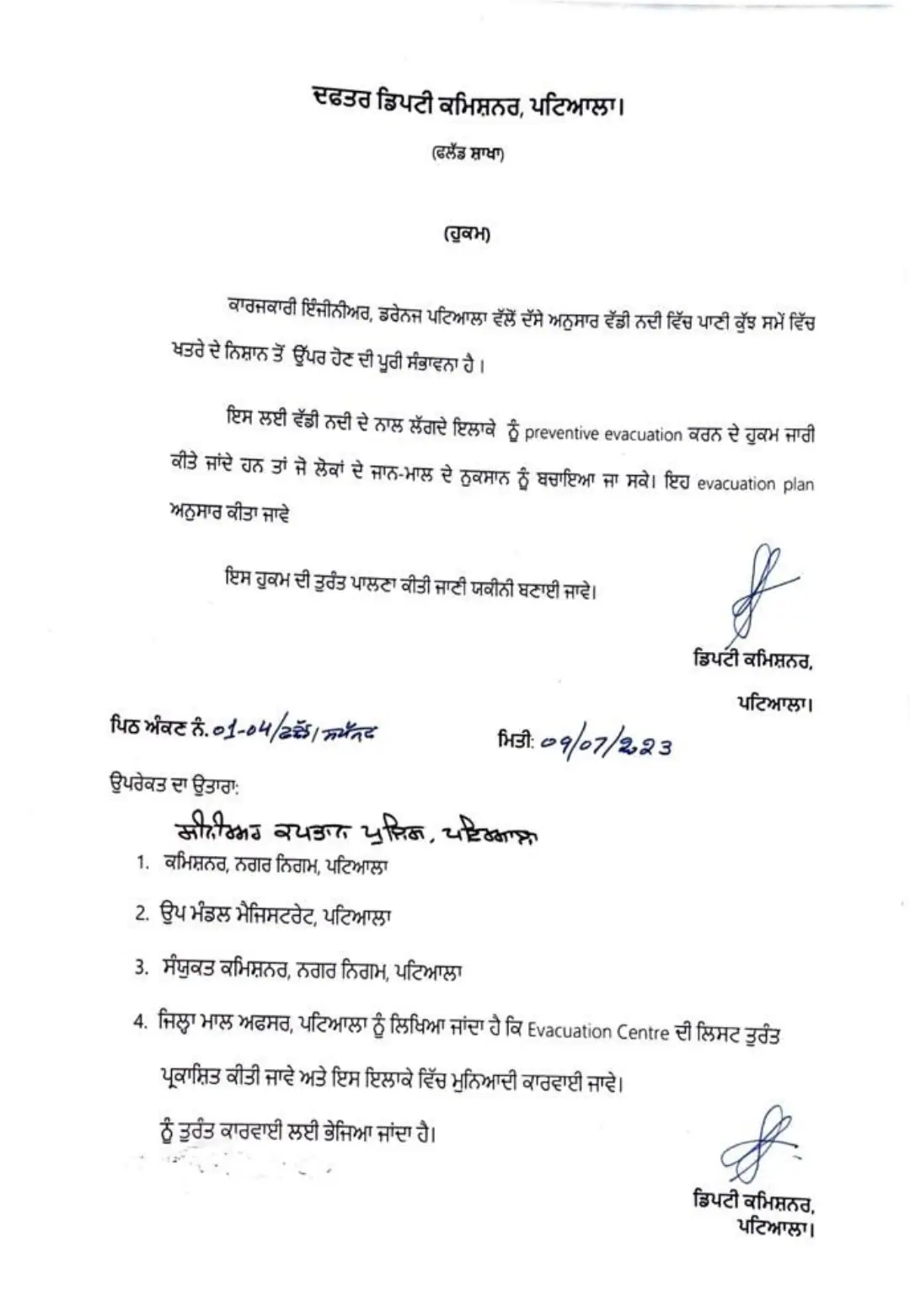 Instructions:
All residents of the Patiala area must evacuate immediately.
Go to the nearest evacuation center.
Take with you only essential items, such as food, water, and medicine.
Do not attempt to drive through flooded areas.
Stay tuned to local media for updates.
This is a mandatory evacuation order. Failure to comply may result in legal action.
For more information, please contacts 
Patiala control room number 9872200663 and 0175 2350550
The Indian Meteorological Department: +91-11-2652-7000
Cabinet Minister and Deputy Commissioner Visit Patiala Rivers to Assess Flood Damage
Cabinet Minister Dr. Balbir Singh and Deputy Commissioner Sakshi Sahni visited the larger and smaller rivers in Patiala on July 8, 2023, to assess the damage caused by flooding. The ministers met with local residents and officials to discuss the situation and ensure that necessary steps are being taken to protect people and property.
The ministers were informed that there are more houses that are near the larger river and that residents have been asked to go to safe places. The district administration has identified a safe place for residents to stay.
The Deputy Commissioner, Sakshi Sahni, also visited the rivers and met with the team that is working to protect the security of Patiala district. The team is posted 24 hours a day to monitor the situation and respond to any emergencies.
The Deputy Commissioner also visited the alternative administration center at Devilgarh Road. This center has been set up to provide assistance to residents who have been displaced by the flooding.
The ministers and the Deputy Commissioner assured the residents that the government is committed to providing them with the necessary assistance. They also urged residents to stay safe and to follow the instructions of the authorities.
Stay safe.