Two days ago, she participated in the Golden Globe ceremony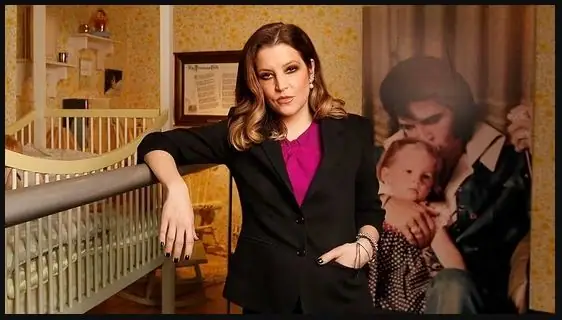 Lisa Marie Presley: Bad news for fans of the Hollywood music industry. Lisa Marie Presley passed away at the age of 54. Lisa Marie Presley was the daughter of rock and roll legend Elvis Presley. On January 12, she was taken to a Los Angeles hospital where he was pronounced dead after suffering a heart attack.
Lisa's mother Priscilla Presley released a statement saying, "It is with a very heavy heart that I share the terrible news with you all. My beautiful daughter Lisa Marie is no longer with us."
Death due to heart attack
Talking about Lisa Marie Presley, who was 54 years old. Lisa died of a heart attack at her home in Los Angeles. When she was taken to the hospital, the doctors there administered CPR as well as an injection of epinephrine, but Lisa was already dead.
Career in music
Lisa Marie Presley started her career in the music industry. His debut album came out in the year 2003, titled 'To Whom It May Concern'. After this, in the year 2005, his album 'Now What' came which became a big hit. Both of these Lisa Marie albums reached the top 10 on the Billboard 200 Albums. After this, in the year 2012, Lisa released her third album, which is called 'Storm and Grace'.
Best actor award for father's biopic
Lisa Marie Presley and her mother Priscilla Presley attend the Golden Globes in Beverly Hills on January 10. Austin Butler won the best actor award in this ceremony. Austin appeared in the lead role in the drama film 'Elvis'. That's why he got this award. 'Elvis' is a biopic based on the real life of Lisa's father. It was a special moment for Lisa and her mother Priscilla. Austin thanked both in his speech while receiving the award.
Lisa Marie Presley's personal life has been in many controversies. He had four marriages, none of which were successful. Lisa was married to musician Danny Keogh, which lasted from 1988 to 1994. Lisa then married Michael Jackson which lasted from 1994 to 1996. Lisa then married actor Nicolas Cage, which lasted from 2002 to 2004. Lisa's fourth marriage was to music producer Michael Lockwood which lasted from 2006 to 2021.
Lisa Marie Presley was born on February 1, 1968, in Memphis, Tennessee. She is the only child of Elvis Presley and Priscilla Presley. She inherited her father's love of music, and began her singing career in the early 2000s with the release of her debut album "To Whom It May Concern." The album received positive reviews and produced a hit single, "Lights Out." She released her second album "Now What" in 2005, and her third album "Storm & Grace" in 2012.
Also to her music career, Presley has also made appearances in film and television, including the HBO series "Mad Dog Time" and the movie "The Adventures of Ford Fairlane". She has also been involved in various philanthropic efforts, including a partnership with the United Nations Children's Fund (UNICEF).
Presley has been married four times, her first marriage was with musician Danny Keough, then with Michael Jackson, and Nicholas Cage, and her fourth was with musician Michael Lockwood. She has four children.